Ragger Wire Recycling Line
Author:UTMACH
Published on:2021-12-07
---
Ragger Wire Crushing & Sorting processing system

Ragger wires, also known as "pulper tails" and "pulper ropes", are reject secondary raw materials that are created when waste paper is recycled. Ragger wires consists of the plastic trimmings, staples, tape, labels and baling wire found in baled post-consumer paper waste. It is made up of approximately 45% steel and 55% post consumer waste and must be removed from the pulper.
With Zibo United Tech Machinery's purpose-built ragger wire recycling systems, this tough material can now be recycled and material separated, through shredding and subsequent separation of metals, plastics, and stones, etc. Residual waste becomes alternative fuel. In this way, the paper mill plants can save landfill space, reduce disposal costs, and generate revenue instead of waste.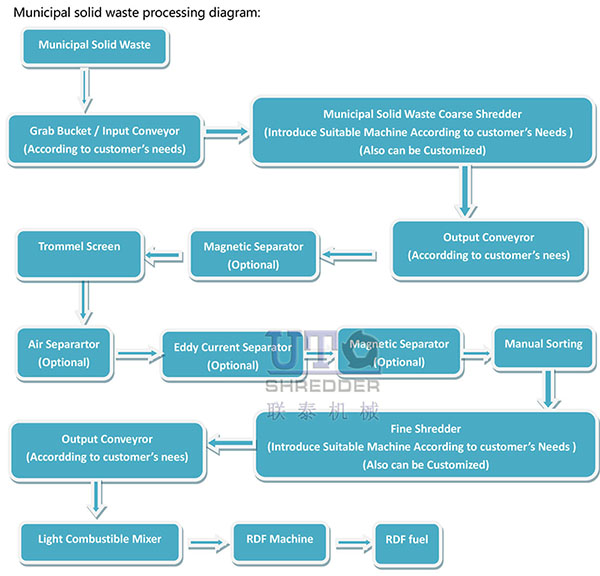 Description:
This processing diagram is used for the ragger wire crushing and sorting. It can be adjusted according to customers' actual condition.
Features:
The ragger wire recycling system is including crushing, sorting and transporting, etc.
The core shredder with the welding alloy steel, strong wear resistance, decrease the maintaince cost.
The blade is detachable design, spiral arragement, easier to catch the materials to crush.
Brand plate speed reducer, low speed, large torque.
United Tech take the " crush, reduce, sort, transport, recycling" as the principle, and prodcue the processing system according to the exact condition and the final purpose. United Tech Machinery, one professional crushing expert to meet your requirements to the CUSTOMIZED SHREDDER.