Waste Plastic Recycling Line
Author:UTMACH
Published on:2021-12-07
---
Waste Plastic Film Crushing, Washing, Pelletizing & Recycling Processing System

Plastic is widely used in the agricultural, industry, constructioin, package, also the life field. Take a example as in the agriculture, mulching film, greehouse film, post consumer filem, manufacture paxking film, pipe, fishing wet, etc. We are using much more plastic in our life, like the rain coat, tooth brush, plastic bag, etc.
The plastic film crushing, wahsing, pelletizing & recycling processing line from United Tech is used for processing a wide range of plastic materials whith varying level of contamination inculding extremely heavy contamination such as oil based substances and agricultural waste, industral packing film, waste film, PET bottle, ect. This whole line including shredding, washing, sorting, drying, pelletizing, etc. The waste material change to recycling materials. This recycling line is simple operation, high efficient and low energy consumption. We can cutomized the recycling line as the customers' requirements as the produciton capacity from 300kgs to 2000kgs/hour.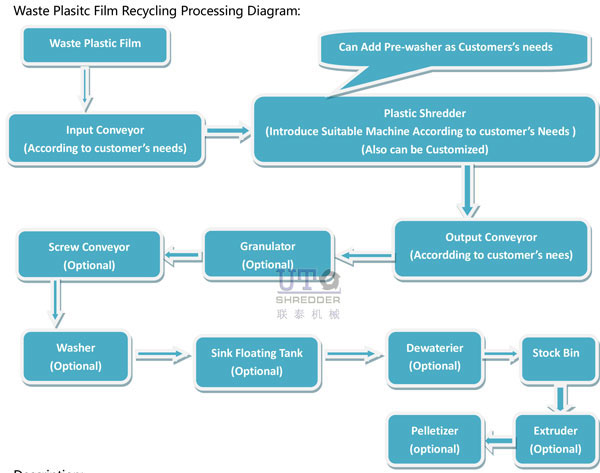 Description:
This processing diagram is used for the waste plastic film shredding, washing, dewatering and pelletzing.. It can be adjusted according to customers' actual condition.
This system with the different output capacity as customers's requirements. Please contact with us sales person for exact specificaiton.
United Tech take the " crushing, washing, drying, pelletizing, recycling" as the principle, and prodcue the processing system according to the exact condition and the final purpose. United Tech Machinery, one professional crushing expert to meet your requirements to the CUSTOMIZED SHREDDER.