F series four shaft shredder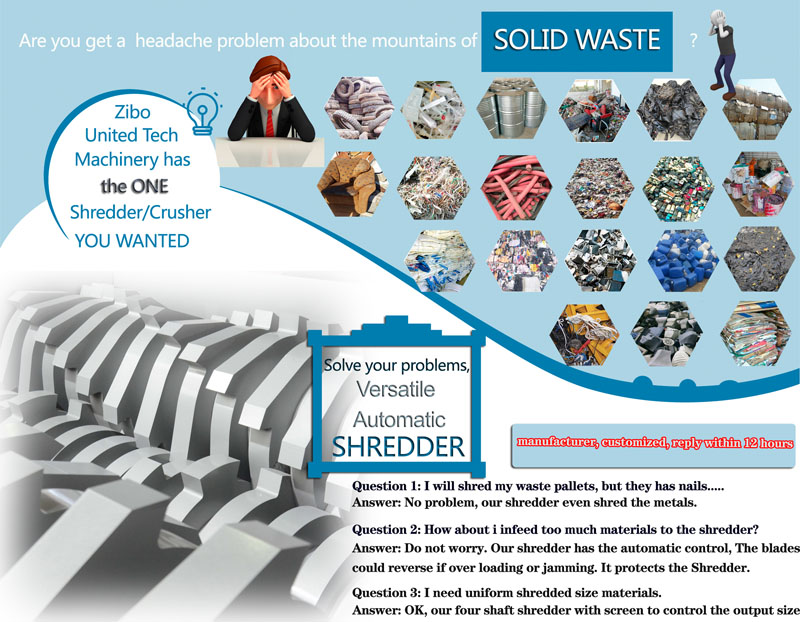 Four Shaft Shredder Introduction:
This series is versatile heavy –duty machine. It has advantages in standardization and modularization design, high interchangeability for their components. The four shaft shredder has the blades are made of special alloy steel with high strength, strong antiwear and reparability. The drive part takes advantage of 2 motors, heavy planet gear boxes to make main shafts rotate at different speeds. The electric part takes advantage of PLC program and touch screen control with video monitor system and the automatic detecting overload protection function. They have low rotation speed, big torque and low noise characters. So they have won customers' trust and got popularity in the shredding process in the recycle industry.
Four Shaft Shredder Cutting Introduction:
Four shaft shredding machine discharging through the screen mesh to control the size, material, after being a cutting material particle size is smaller than sieve hole will mesh material, size is larger than mesh material, through the main cutting knife and cutting knife guiding role, along the inner surface is returned to the broken screen box for secondary cutting, so, know the material discharging from sieve hole.
Four Shaft Shredder Features:
* Screen control the output materials, discharged material with equal size.
* Four knife shaft control the output materials, large discharge quantity, and excellent efficient.
* Four enclosed Bearing protection design, waterproof and dustproof, so the life of Bearing can be prolonged.
* Rotor is specially processed by machinery center, whole body without a welding spot. Shear type moving knife adopts save wearing cost and future maintenance time.
* Transmission system is composed of motor, reducer and coupling, tightly connected. While driving and driven shaft is linked by gears. Ensure high efficiency, low rotating rate, high torque and low noise.
* Sub-main Cutting Blade has the function of grab material assistance, suitable to shred the large piece items.
* Four Cutting Blades shredding in one time, suitable to the requirements to the material size while in one shredding.
* The wearing Blade can be repaired by the most advanced cutting tool coating and welding technology. The Blade can be repeated use, reduce the maintenance costs.
* Electrical system adopts PLC program, features start, stop, reverse functions along with automatic overload return mechanism to prevent damage to working parts. Lower labor intensity and longer machine service life.
Applications:

Suitable for crushing the following materials:
-Bucket products: plastic bucket, metal drum, paint bucket, intermediate -bulk container (IBC) and dustbin
-Wastes: household waste, medical waste, kitchen waste, industrial waste, park waste
-Plastic products: plastic bottle, plastic frame, plastic block, plastic can
-Metal products: aluminum profile, oil filter, car shell, pop-top can, metal can
-Paper: newspaper, card paper, corrugated paper, copy paper
-Electronic appliances: refrigerator, circuit board, laptop shell, TV set shell, CD disk
-Glass products:glass cotton, glass, glass bottle
-Textile: Leather, fiber, clother, etc
Four Shaft Shredder Specification: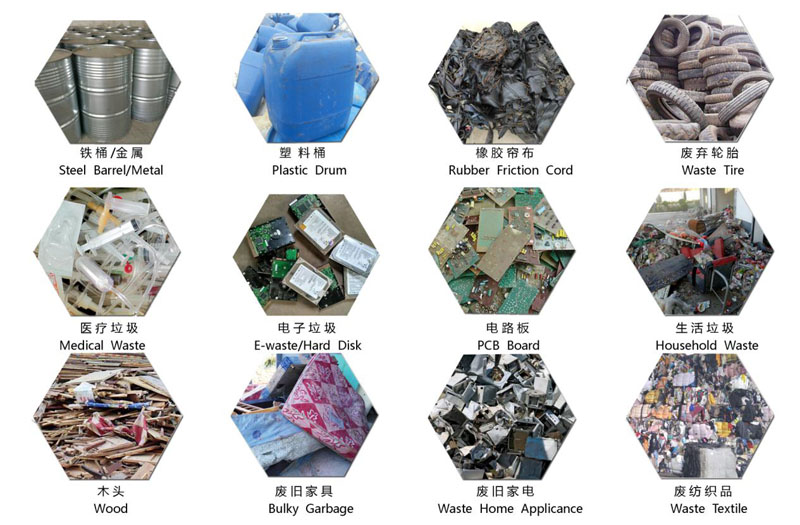 Note:
1. The voltage about the power supply can be selected by the customer's specific requirements.
2. The shredder capacity can be influenced by the material composition and output size.
The above specifications are only for reference and subject to change without prior notice, please confirm with our sales representative when making order.
Welcome to contact with us to get more details product information. We are glad to introduce you the most suitable machine, design the most reasonable proposal as your production requirements. Our task is to support our customers who are in the solid waste & refuse management industries to get a higher production efficient, improve their product quality and value so that they can get a greatest progress in the keen competition.