Harzardous Waste Treatment Line
Author:UTMACH
Published on:2021-12-07
---
Hazardous Waste Processing System

The Hazardous waste including oil tank, paint bucket, chemical barrels, plastic barrels, spayer, bio-medical waste, batteries, etc.
Hazardous Waste processing diagram: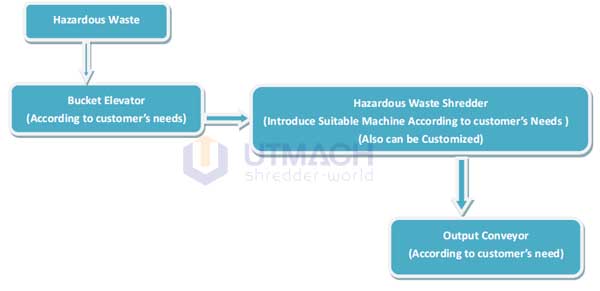 Description:
This processing diagram is used for the Hazardous waste crushing. It can be adjusted according to customers' actual condition.
Features:
The core shredder with the welding alloy steel, strong wear resistance, decrease the maintaince cost.
The blade is detachable design, spiral arragement, easier to catch the materials to crush.
Brand plate speed reducer, low speed, large torque.
The output size is small and average, reached the natiaonl standard requirements.
Multiple sealing for the cutting chamber and power supply device, get a good sealing and corrosion resistance.
United Tech take the " crush, reduce, dispose" as the principle, and prodcue the processing system according to the exact condition and the final purpose. United Tech Machinery, one professional crushing expert to meet your requirements to the CUSTOMIZED SHREDDER.