MSW Recycling line
Author:UTMACH
Published on:2021-12-25
---
Municipal Solid Waste Crushing & Sorting & RDF system
Municipal solid waste including difference complex compositition, the renewable recycling fraction is different as well. This United Tech shredder solved many problems from the customers: large crushing efficiency output ( the capacity of United Tech coarse shredder is 30-100mts/hour), The shredder is adjustable to the MSW complex materials, convolved materials, the fine crush to less than 30-80mm. Use the United Tech shredder, after crushed, it would be easier to sorting the paper, plastic, iron, alumina, ect valuable waste materials, the shreded residual combusible materials is made to RDF.
The consiture of the municipal solid waste:
Organics, plastic, metal, textile, wood, paper, stone & sand, glass & ceramic, E-waste, etc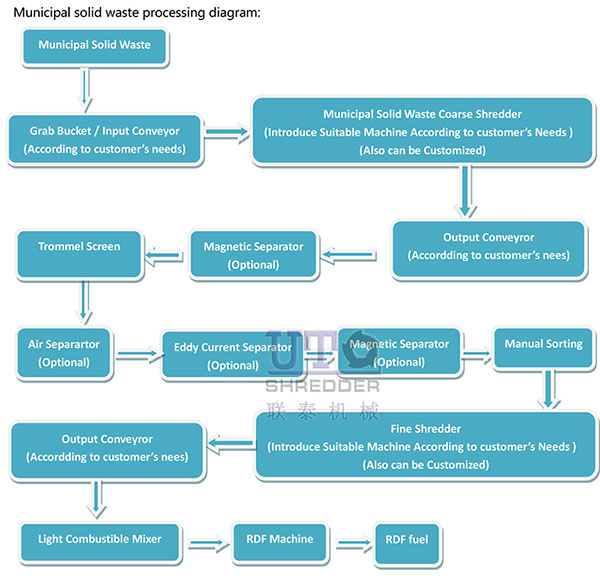 Description:
This processing diagram is used for the municipal solid waste through crush, sort, to RDF. It is adjustable according to customers' actual condition. .
The final material is less than30- 80mm to be made of RDF (refuse dervied fuel). And sorting the iron, cooper, alumina, etc metals (recyclables), glass, ceramic, stone and sand non-combusible materials (landfill).
United Tech take the " crush, reduce, sort, extrusion, recycling" as the principle, and prodcue the processing system according to the exact condition and the final purpose. United Tech Machinery, one professional crushing expert to meet your requirements to the CUSTOMIZED SHREDDER.