Wood Pallet Shredder
Author:UTMACH
Published on:2023-02-15
---
Pallets are most commonly made of wood, but may also be made of plastic, metal, paper or recycled materials. .Wood pallet shredders from UTMACH for pallet recycling are very easy to operate and maintain. Start the shredder, and you simply feed the material into the hopper or onto the conveyor, and walk away. And with user-friendly PLC controls, easy accessibility, quick and easily changed screens, maintenance is fast and simple.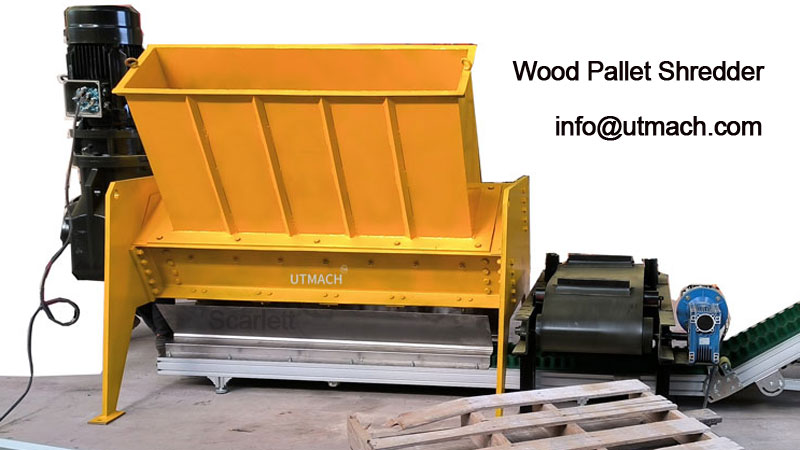 UTMACH pallet shredder are widely used in the secondary wood processing industries such as pallet, crate and container manufacturing, truss and structural building component manufacturing, or particleboard, chipboard and MDF manufacturing rely on for pallet recycling. Our Pallet shredders are designed to shred and reduce pallets and products and materials similar to them, such as crates, medium-sized wood scraps and corrugated sheets and forms.
UTMACH Pallet shredders are used for both home and industrial applications. Such as landscape cleaning, which can be a project on a private residence or on a building site. So an operator uses the pallet shredder to shred wood that cannot be salvaged for other projects as-is. The pulverized wood chips may then be disposed of or sold for use in the creation of pressed wood products like pressboard.
Other typical applications of pallet shredders include: MSW reduction, landfill densification, landfill mining reclamation, disaster clean-up, fuel feedstock, composting, rendering and total product destruction.
We provide customized machines. Can equip the feed/dischaarge conveyor and magnetic separator, etc as required.
This practice is comparatively Earth-friendly, preventing wood/material burning and encouraging recycling. Pallet shredders are routinely used to repurpose old and used materials and structures. They are a great choice for preparing materials for uses like mulching or insulating. This material may mulch flowerbeds, insulate homes, provide definition for walking paths and more.
Welcome to contact with us to get detailed product information. We are glad to introduce you the most suitable machine, design the most reasonable proposal as your production requirements. Our task is to support our customers who are in the solid waste & refuse management industries to get a higher production efficient, improve their product quality and value so that they can get a greatest progress in the keen competition.
Our email is info@utmach.com