Sewage Macerator
Author:UTMACH
Published on:2023-03-06
---
Sewage grinder (wastewater macerator, sewer crusher), is one type dual shaft shredder.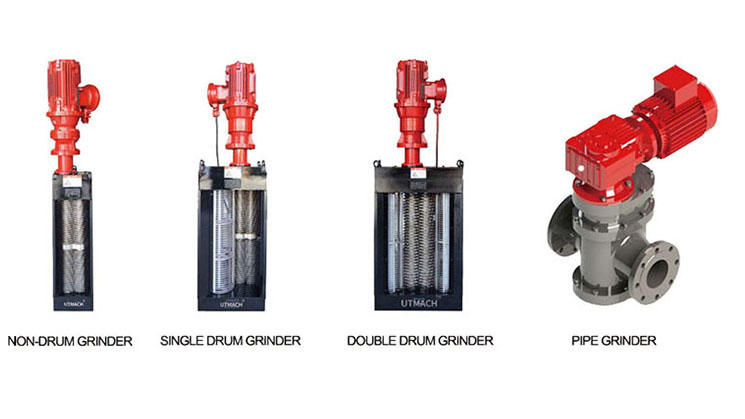 wastewater grinder can be installed in the inlet channels or wells of water treatment plant, rainwater or sewage lift stations for intercepting and shredding the solid waste in the water. Besides, it can be used for shredding waste in bio gas, environmental sanitation, paper making, and chemical engineering industries' pipelines, or be used in rubbish processing industries for shredding rubbishes. It can be also used for shredding the solid waste in the drainage pipes of mall, restaurants, hotels, residential areas, villa, and so on. It guarantees the pipes are unobstructed and ensure equipment in the following process like pumps are under normal operation . It is an advanced waste intercepting and shredding equipment.
The main component of UTMACH wastewater grinder is two sets counter rotating cutters, which can shred the waste into small pieces. It is made of independent, heat treated, high and hard alloy steel, which is very wear and corrosion resisting.
A shock absorber is installed on the shaft coupler, it is for relieving the mechanic shock generated during the machine's start-up and operation.
The electric control box is equipped with intelligent detecting system. It has protections for faults like over current, over torque, electricity leakage, overheat, etc.
The driving and driven shafts are equipped with mechanical seal, which can protect the bearing effectively.
UTMACH wastewater grinder is featured with simple structure, reliable operation, convenient installation and maintenance. It can be operated full automatically.
Welcome to contact with us to get detailed product information. We are glad to introduce you the most suitable machine, design the most reasonable proposal as your production requirements. Our task is to support our customers who are in the solid waste & refuse management industries to get a higher production efficient, improve their product quality and value so that they can get a greatest progress in the keen competition.
Our email is info@utmach.com