Waste Tire Shredder
Author:UTMACH
Published on:2022-07-28
---
Rubber Tire Recycling
As we known, the black pollution- tires cover all over the world and it is growing at one billion waste tire every year. It does damage to the environment. The traditional disposal method of waste tire is to burn or pile up outdoor for a long time, but whether burning or piling up, waste tire would take up a lot of land and cause new pollution during waste tires.
So we need to recycle waste tires. Rubber tire recycling machine from Zibo United Tech Machinery Co., Ltd. can crush waste rubber into chip. The finial rubber granules can be made into rubber pipe, conveyor belt, rubber floor tile.
Tire Recycling line is adopting physical recycling method and is suitable for our company develop and produce a waste tire and rubber recycling equipment, mainly is suitable for the grinding, wire tire, steel wire ties and all sorts of waste rubber products. This waste tire recycling plant running in normal temperature, no need to add any other chemicals, no pollution to the environment.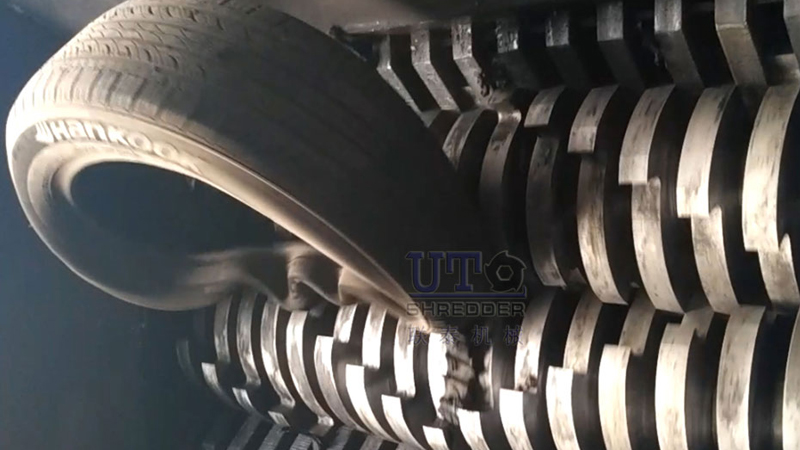 Components of rubber tire recycling:
• Infeed Conveyor Belt – easy control to feeding tires
• Twin Shaft Shredder – shears the tires into strips
• Conveyor Belt – transport shred to the shredder
• Over belt Magnet – separate the liberated steel from the rubber chip
• Shredder – shred into 15-20mm chips and liberates remaining steel wires from the rubber
• Vibrating Screen – separate chip according to the sizes
• Magnetic Separator – remove the reinforcing steel wires from tire rims
• Granulator –shred them to 1-5mm and separate the fiber
• Magnetic Separator – remove remaining steel wires
• Big bag station
• Dust Collector – remove dust and fines from the system
• Control Panel
• Welcome to contact with us to get more details product information. We are glad to introduce you the most suitable machine, design the most reasonable proposal as your production requirements. Our task is to support our customers who are in the solid waste & refuse management industries to get a higher production efficient, improve their product quality and value so that they can get a greatest progress in the keen competition.
• Our email is info@utmach.com