Medical Waste Shredding Machine
Author:UTMACH
Published on:2023-06-28
---
Medical Waste Processing
Presently, Medical Waste Processing has different ways, such as sanitary landfill, incineration by pyralysis, autoclave sterilization, chemical disinfection, microwave sterilization, thermal decomposition, and plasma process, ect. United Tech Machinery has lots of experience in medical waste processing, we offer kinds of professional shredders to handle the processing. The medical waste can be shredded into uniform in size, which is smaller than 50mm to improve the incineration efficiency.
Zibo United Tech Machinery Co., Ltd.'s Medical waste crusher has good sealing and corrosion resistance. Cutter blades high quality alloy material, ensure good resistance and high impact strength, It meets the high degree of mixing medical waste requirements to shred stainless steel equipment, prosthetics and other metal products. Medical waste processing system has a reasonable blades layout and high pass rate of the screen structure to ensure the crusher is not blocked.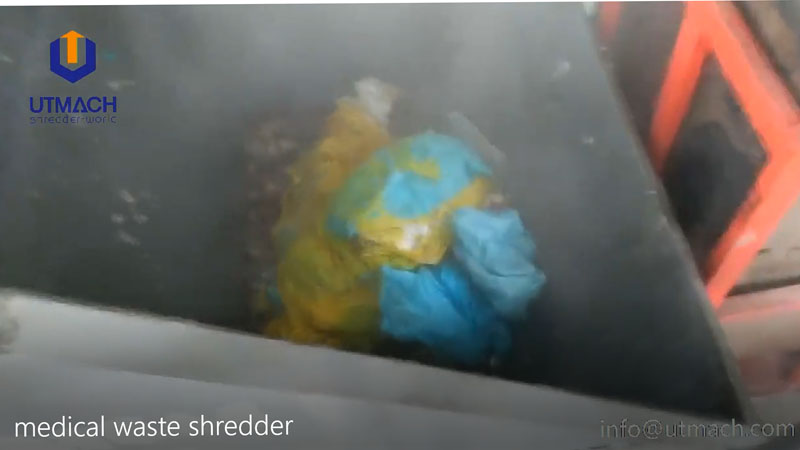 Suitable for Shredding the

Medical Waste

as:
· Small medical devices
· Clinical waste
· Expired drugs
· Infectious waste
· Various plastic waste
· Latex material waste
· Syringe syrup type waste
· Prosthetics
· Wipes, blood stained cotton yarn, disposable sheets
Welcome to contact with us to get more details product information. We are glad to recommend you the suitable machine, design the reasonable proposal as your production requirements. Our task is to support our customers who are in the solid waste & refuse management industries to get a higher production efficient, improve their product quality and value so that they can get a great progress in the keen competition.
Our email is info@utmach.com