Electromagnetic Separator

electromagnetic separators wet type mineral processing magnetic separator for slurry

Product Advantages:

1.Unique electromagnetic coil design and efficient cooling method.

2.The magnetic coil of the magnetic separator of electromagnetic paste is cooled with fully sealed cooling oil, and the external high-efficiency heat exchanger is used for heat exchange of oil and water to realize compound cooling of oil and water, with fast cooling speed, low temperature rise and stable magnetic field.The separation medium produces high magnetic field gradient, and the removal of iron is better.
3.The medium is made of special magnetic-conducting stainless steel, which can generate extremely high gradient magnetic field under the excitation of background magnetic field. It has a strong adsorption effect on low content of weak magnetic impurities and a better effect on iron removal.Fully automatic operation, low operating and maintenance cost.
4.The working process of this equipment is controlled by automatic program, which can realize automatic operation without human being on duty and reduce operation and maintenance cost.High pressure water positive and reverse washing, iron removal clean, no residue.
5.When removing iron from the equipment, use high pressure water to clean the medium and remove iron cleanly. The cleaning time can be set according to different mineral stages to improve the treatment efficiency
Application Scope:
used for iron removal and purification of nonmagnetic ores such as quartz ,feldspar ,kaolin and other minerals . It can also be used for waste water treatment and clean of contaminated chemical materials in iron and steel power plants.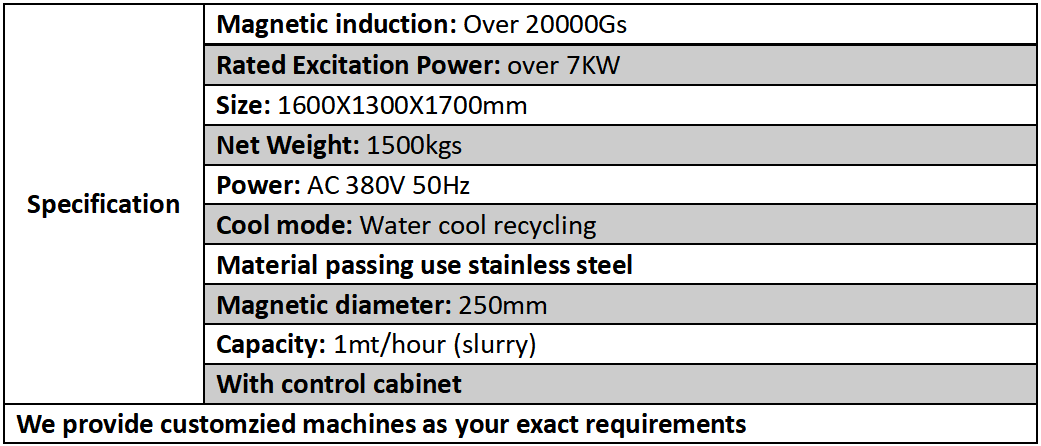 Note:
1. The voltage about the Product specification can be selected by the customer's specific requirements.
2. The capacity can be influenced by the material composition.
The above specifications are only for reference and subject to change without prior notice, please confirm with our sales representative when making order.