Main products include:
Glass Lined Reactor(GLR) , GMP Stainless Steel (SS) Reactor ,Mild Steel ( MS ) Reactor , High Borosilicate Glass Reactor , and related equipment such as Tank, Dryer , and Condenser etc..
And other chemical equipment from 5L to 50000L as below :
Condensers, Distillation columns, Measurement tanks, Storage tanks, Heat ex changer, Stainless steel tanks, Glass lined receivers and vessel, Distillation tanks, Wiped film evaporators, Vacuum dryers, Pressure vessel.
Glass lined reactor equipment is made by applying enamel with high silicon content on the metal surface, and enamel burning at 1200°C to make the enamel adhere to the surface of the metal iron tire. Therefore, it has the dual advantages of glass-like chemical stability and metal strength.
Glass-lined reactor equipment is widely used in reactions, evaporation, concentration, synthesis, extraction, polymerization, saponification, mineralization, and chlorine in chemical, pharmaceutical, dye, pesticide, organic synthesis, petroleum, food manufacturing, and defense industries and other industrial production and scientific research. To replace expensive stainless steel and non-ferrous metals. Corrosion resistance: It has strong corrosion resistance to various concentrations of inorganic acids, organic acids, organic solvents and weak alkalis. However, it is not applicable to strong alkalis, hydrofluoric acid and fluoride ion-containing media, and phosphoric acid with a temperature greater than 180°C and a concentration greater than 30%.
Introduction:
The closed-type glass lined reactor adopts an integrated structure of the tank body and the upper cover, and the upper cover and the cylinder body are directly welded together without the need for a clamp connection. The general volume is 1000L to 30000L.
Feature:
Easy to use, easy to maintain and maintain. It has the double advantages of glass stability and metal strength. It is excellent corrosion resistant chemical equipment. It has corrosion resistance, impact resistance, smooth appearance, insulation, heat resistance, wear-resistant and other reliable performance. Glass lined equipment, such as glass lined reactors, are widely used in chemical, petroleum, pharmaceutical, pesticide, food, dye and other industrial processes. They are the most ideal equipment for hydrolysis, neutralization, crystallization, mixing and emulsification.
F type glass lined reactor technical data: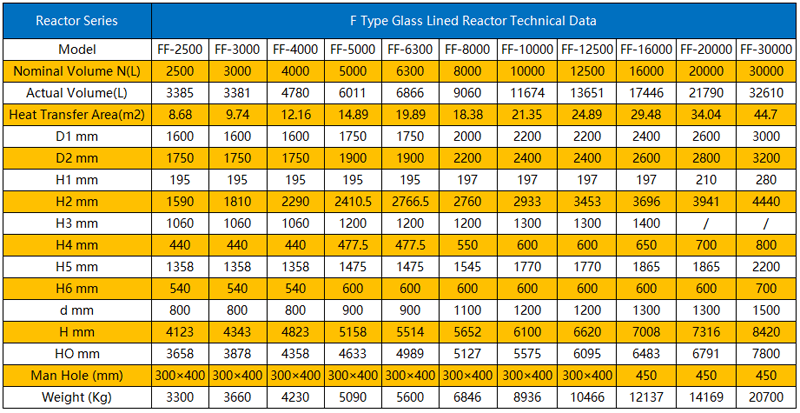 Note:

The above specifications are only for reference and subject to change without prior notice, please confirm with our sales representative when making order.