Waste Water Grind Shredder
The Waste water Grinder from United Tech Machinery is a high torque, low rotating speed and double shaft grinder under water. It is designed to pulverizing all kinds of solid waste ( clothing, plastic, trash, wood, aluminum can, glass bottle and other debris) to 6-12mm in the modern waste water and sludge to protect pumps, prevents binding and clogging problems. Accommodates high speed water flow while pulverizing various solid waste into particles that let the water flow harmlessly through pumps, pipes and so on.
The Waste water grinder is suitable for Waste Water Treatment Plant, Water works, Rain Pump station and the water inlet channel (well), intercepts floating materials in water, guarantees normal operation of subsequent pump, it's an advance intercepting waste water device.
Working Principle
1. Wastewater with solid waste in the pipeline or channel;

2. Grinder pulverize the solid waste by rotating blades;
3. Solid waste was reduced to 6-12mm particles and passes through the grinder;
a. Rotating wound-rotor drum captures and directors the big sold waste to grinding chamber. Smaller solid waste (less than 9mm) waste water can pass through the rotating drum;
b. Diversion trench guides the sands through, protects the shaft and mechanical seal from the sand damaging.
4.Can equip the transit conveyor to outside for next treatment.
Our grinders series include pip-line wastewater grinder, channel wastewater grinder (non, single, double drums), and sludge cutter, etc.

Pipeline Grinder, similar to sludge cutter:
Suitable to flow rate less than 300m3/hour.
Non-drum grinder, suitable to flow rate less than 340m3/hour.
Single drum grinder, suitable to flow rate as 400-1000m3/hour;
Double drum grinder, suitable to flow rate over 1100m3/hour.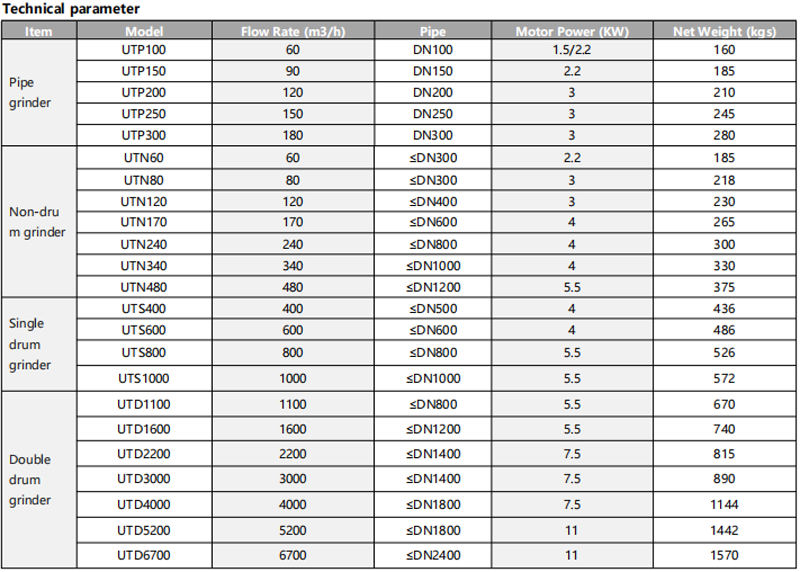 Note:
1. The voltage and motor power about the power supply can be selected by the customer's specific requirements.
2. The shredder capacity can be influenced by the material composition and output size.
The above specifications are only for reference and subject to change without prior notice, please confirm with our sales representative when making order.