Rubber Pulverizer
Usage:

the machine is mainly used to grinding waste rubber , tire , tube , flap and break the raw rubber materials. Finally the steel wire and rubber be separated. The rubber with 10-40 mesh.
rubber breaker / tyre cracker / whole tyre cutter machine / used tires cracker mill for waste tyre / used tires recycling production line / Scrap Tyre Rubber Crushing Mill In Waste Tire Recycling Line
Structures:

It consists of motor, gear-down reducer, driving gears, speed-ratio gears, front and back rolls, bearings, frame, cover, bed plate, adjusting pin device, emergency stop device, roll temperature adjusting device, lubricating device and material plate, etc.
Features:
1. The roll is made of chilled cast iron of vanadium and titanium alloys. (Rolls are made of high grade steel with hard alloy welded on the surface.)
2.The roll face is hard and anti-wear. Both the front roll and the back roll are fluted. The internal cavity of the roll is processed to ensure temperature well proportioned on the roll surface.
3.The machine is equipped with an overload protection device to prevent the major components from being damaged due to overloading.
4. Inside the hollow cylinder for use, can according to the requirement, the steam and cooling water is used to regulate the temperature of the rolls. Two rolls with different relative rotation speed, rubber roller into two broken sewing machinery in the process.
5.The machine is also equipped with an emergency device. When an emergent accident happens, just draw the safety pull-rod, and the machine will stop immediately.It's safe and reliable.
Specification: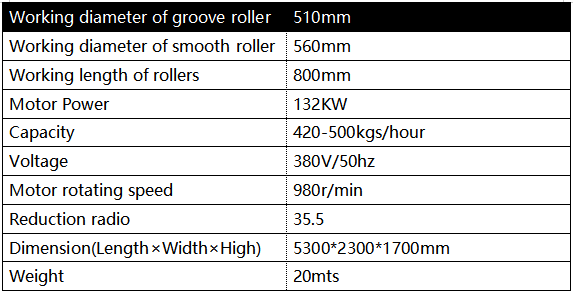 Note:
1. The voltage about the power supply can be selected by the customer's specific requirements.
2. The Grinder capacity can be influenced by the material composition and output size.
The above specifications are only for reference and subject to change without prior notice, please confirm with our sales representative when making order.