Chain Conveyor Introduction:

Chain conveyor is a conveying equipment which is composted of a series of metal scales supported on roller chain and overlapped with each other to form a continuous moving working face to carry bulk solid material.
There are three types of conveyor, horizontal type, inclined type and horizontal inclined type. Their working principles are basically the same. The movement of materials is formed by the carrying of scale conveyor. The scale conveyor has the advantages of simple mechanism, wide application range, transportation capacity, small running resistance, Convenient installation and maintenance, and long service life. It can not only be transported horizontally, but also tilted, it can be fed at multiple point and equipment process layout is flexible.
Chain Conveyor Applications:
The chain conveyor is suitable for the feeding and conveying of urban domestic waste such as municipal solid waste power plant, hazardous waste incineration plant, domestic waste comprehensive treatment plant, domestic waste composting plant, etc.
The chain conveyor is a kind of professional fixed mechanized conveying equipment, which adopts alloy wear-resistant steel as the carrier tank, which is suitable for the transportation of a large number of bulk materials and single heavy objects.
1. Chain Conveyor Introduction:

slat conveyor is an advanced conveying equipment for powdery, granulate, and small size materials. It is featured with small friction, stable conveying, simple structure and convenient to repair and maintain. It's mainly used for mechanized operations in solid waste recycling lines.
Chain plate material: carbon steel, stainless steel, thermoplastic chain, or according to your requirement.
Belt Conveyor Advantages:
a. has equipment the strong magnetic design;
b. can design the enclosed chain conveyor
c. beautiful appearance, good air tightness, low operating noise and high reliability.
d. Its conveying surface is flat and smooth, with little friction, thus the materials are transferred stably. It can be used to convey glass bottles, PET bottle, can, bags and suitcases.
e. It is made of stainless steel or engineering plastic. It is of various kinds and models, you can choose the model in according with the material and technique. It can meet different industries' needs.
f. The rack can be made from aluminum, or common carbon steel, or stainless steel.
g. It is strong conveying capacity. It can convey heavy products such as electro car, motorcycle, and generator.
h. It is of precise and stable conveying speed, assuring precise and synchronous transfer.
i. Normally, chain plate conveyor can be flushed and bathed directly in the waters. It is very convenient to clean it, thus can satisfy food and drink industries' needs.
j. It can be arranged flexibly. It allows horizontal, slant and twist conveying in one line.
k. It is of simple structure, convenient to maintain.
l. can be customized its width, length, thickness, turning, wave baffle, lift height, etc.
m. Customized color.
| | |
| --- | --- |
| Production Name | Chain link conveyor belt, Spiral conveyor belt, Spiral Grid Link Conveyor Belts, Flat Spiral Conveyor Belt, Cam Grid conveyor belt, Balanced Spiral belt, Spiral food conveyor belt, chain conveyor belt mesh |
| Material | 304 316 316L 430 310S stainless steel wire, galvanized steel wire, black iron wire |
| Spiral wire diameter (D) | 1mm-3mm. customized is workable. |
| Spiral pictch (A) | Spiral wire center to wire center. more than 3mm |
| Rod wire diameter (C) | same as spiral wire, or bigger than spiral wire |
| Rod wire pitch (B) | we can do it as your requirement |
| Sopport rod diameter | As your requirement |
| Chain/ pin pitch | 37.5mm, 38.1mm. we can do it according your requirement. |
| Support rod distance | 190.5mm. or as your requirement |
| Overall width | Include chain width; or not include chain width. please kindly note it |
| Length | As your requirement |
| Remark | If you have drawing, please kindly send us. |
Note:
1.The voltage about the Product specification can be selected by the customer's specific requirements.
2.The conveyor capacity can be influenced by the material composition .
The above specifications are only for reference and subject to change without prior notice, please confirm with our sales representative when making order.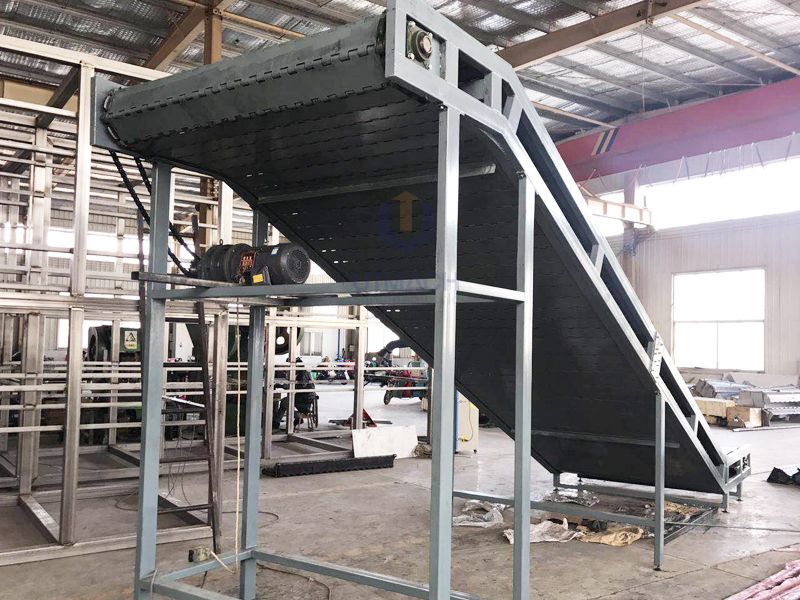 How to get a suitable machine?
1. what is the raw material
2. the dimension of the input material and output material
3. the capacity,and power condition.
Tell me those data, we can help you to recommend the suitable Conveyor for you.