Mobile crushing plant is a complete mobile crushing and screening plant which consists of raw material bins which located on one or more trailers, vibrating feeders, primary crushers (Jaw crusher), multi-layer vibrating screens, secondary crushers, fine crushers, mobile belt conveyors, sand washers, electric control systems and etc.; It is applicable to the mobile crushing processes in highway, railway, metallurgy, ore mine, construction and other industries.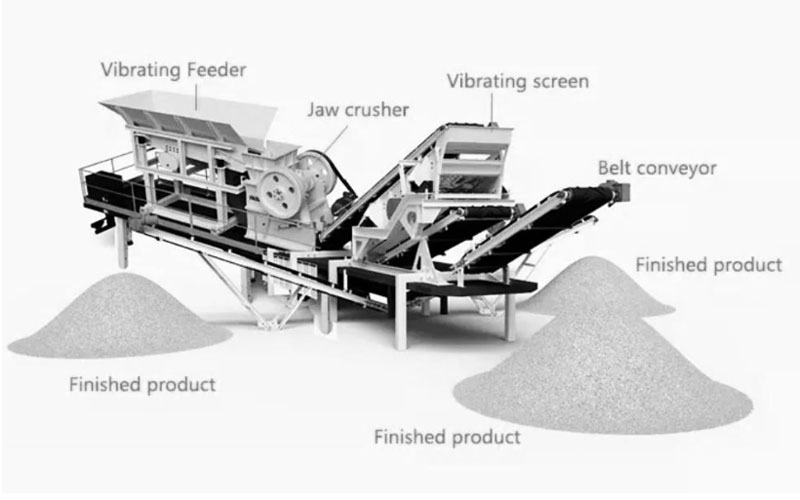 Application Field:
Quarry,mining, coal mining, dry powder mortar, concrete mixing station, power plant, desulfurization, quartz sand, etc.
Suitable Material:
Pebble,granite, basalt, iron ore, limestone, quartz, diabase, etc.
Structure:
Complete varieties of mobile crushing station, specifications series, give you more choice. According to the different needs of customers, provide a diverse portfolio of mobile crushing equipment, to meet the customers production needs.
Based on single machine, combination can be divided into: Cone crusher screening combined mobile station, impact crusher screening combined mobile station, etc. Other mobile devices can be multistage crush combination in various forms according to the specific requirements.
Working principle of mobile crushing plant
The main crushing equipment in the mobile crushing station is a crusher (jaw crusher, counter crusher, cone crusher, impact crusher), and the materials are uniformly transported to the crusher through the feeder. The closed circuit system is formed by the circular vibrating screen after being broken by the crusher preliminarily, which realizes the circulation crushing of the material and outputs the material according with the grain size requirement by the conveyer, so as to achieve the purpose of production.
According to the requirements of different crushing processes, it can be formed into "first crushing and second sieve" or "first sieve and then crushing". Crushing stations can be combined into coarse crushing, fine crushing and two-stage crushing and screening system according to actual demand, or they can be combined into coarse and medium crushing. Fine crushing three-stage crushing screening system, but also independent operation, has a great deal of flexibility
Performance characteristics of mobile crushing plant
Flexible configuration, single machine operation, multi-device supporting operation.
The vehicle-mounted motor and control box are integrated, compact and easy to use.
Vehicle mounting support, equipment venue is fast and convenient.
Steering the traction shaft for easy road transport and site depth.
High mobile performance and high applicability.
Save costs and reduce costs.
Stable performance and easy maintenance.