P series Wood Pallet shredder
The P series pallet shredder from United Tech Machinery can substantially reduce the expense of pallet disposal by reducing their bulk volume. These machines can quickly pay for themselves by reducing the number of weekly waste containers needed as well as eliminating unsightly and unhygienic pallets from your property.
The powerful pallet shredder effectively shreds entire pallets and nails all to reduce their bulk volume. As a result, it can substantially reduce the expense of disposing of pallets. Our pallet shredder is supplied complete with stand, hopper and automatic reversing controls. Its streamlined design features a direct coupled gear drive which is smooth running and simple to operate. With this shredder, there are no drive belts to re-tension. This unit is designed to be easy to use and easy to maintain. Its hopper automatically directs the pallet into the cutting chamber.

Optional equipment includes auxiliary discharge conveyors to convey the output into a waste container, as well as an available in-feed conveyor for a completely automated system.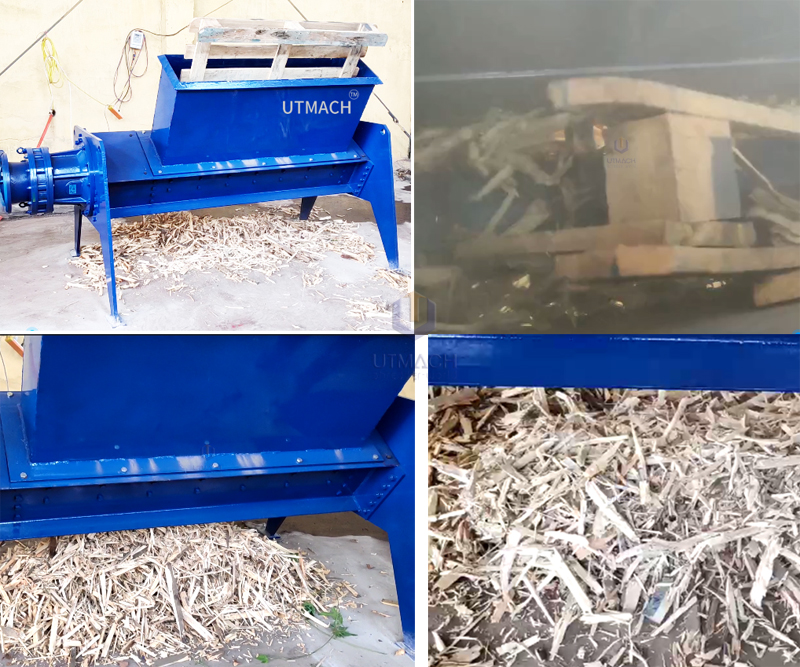 Advantages:
· Heavy Steel Plate Construction
· Low Speed High Torque Cutting Action
· Reduce Pallet Volume for Disposal
· Available With Optional Discharge Conveyor
· Low Maintenance
· Easy blades replacement
· Hardened alloy blades
· Convenient loading
· High quality components
Pallet shredder Specification:

Note:
1. The voltage about the power supply can be selected by the customer's specific requirements.
2. The shredder capacity can be influenced by the material composition and output size.
The above specifications are only for reference and subject to change without prior notice, please confirm with our sales representative when making order.
Welcome to contact with us to get more details product information. We are glad to introduce you the most suitable machine, design the most reasonable proposal as your production requirements. Our task is to support our customers who are in the solid waste & refuse management industries to get a higher production efficient, improve their product quality and value so that they can get a greatest progress in the keen competition.