Belt Conveyor Introduction:
The belt conveyor uses the continuous or intermittent movement of the conveyor belt to transport various heavy and light goods. It can not only transport various bulk materials, but also various cartons, packaging bags and other small single weight goods, which is extensive use. The conveyor belt is relatively stable and can avoid damage to the conveyor belt. Low noise, suitable for working environment requirements more quiet occasions. The structure is simple and easy to maintenance. Low energy consumption and low cost.
Belt Conveyor Applications:
The materials of belt conveyor belt are rubber, silica gel, PVC, PU, and other materials. In addition to the transportation of ordinary materials, it can also meet the requirements of oil resistance, corrosion resistance, anti-static and other materials with special requirements. The special food grade conveyor belt can meet the requirements of food, pharmaceutical and daily chemical industries.
1. Belt Conveyor Introduction:

One of the basic tools in material handling industry, belt conveyors are most commonly used in transportation of bulk materials (grain, salt, coal, ore, sand, etc.).
Belt conveyor systems consist of two or more pulleys (a.k.a. drums). An endless loop of carrying medium-the conveyor belt- rotates about them. To move the belt and the material it carries forward, one or both pulleys are powered. The powered pulley is called "drive pulley," the unpowered one is known as "idler pulley." Belt conveyors in general material handling such as those moving boxes along inside a facility form a different class of belt conveyors from those that are used to transport large volumes of resources and agricultural materials.
Based on the proposed use, conveyor belts are manufactured using either PVC or rubber.
The belt consists of one or more layers of material. Most belts in general material handling consist of two layers. Carcass is the name of the under layer that provides linear strength and shape, while cover is the name of the over layer. Polyester, nylon and cotton are used most often to create the carcass, while a variety of rubber or plastic compounds specified by use of the belt are used to create the cover.
Belts with regularly spaced partitions are known as elevator belts. They are used to transport loose materials up steep inclines. Belt conveyors are also used in self-unloading bulk freighters and in live-bottom trucks.
2. Belt Conveyor Advantages:
a. has equipt the strong magnetic design;
b. can design the enclosed belt conveyor
c. beautiful appearance, good airtightness, low operating noise and high reliability.
d. It is widely used in the transportation of powder and granular materials.
e. can be customized its wideness, length, thickness, turning, wave baffle, lift height, etc.
f. has the high-strength PVC conveyor belt, with block baffle, and rubber belt conveyor to choose.
g. Customized color.
3. Belt Conveyor Specifications:
| | |
| --- | --- |
| Product Mode | UT Belt Conveyor |
| Conveyor Length | 400-27000mm,Customized |
| Conveyor Width | 50-2500mm,Customized |
| Conveyor Height | 700-2000mm,Customized |
| Conveyor Frame Material | Stainless steel/Carbon steel/Aluminium profile, customized |
| Conveyor type | Straight/Inclined/Curve/Spiral Conveyor |
| Belt material | POM/PP/PVC/PU/Rubber/SS304 |
| Speed | Adjustable or not, customized |
| Voltage | 220V/380V |
| Drive Form | Motor Driven Transport |
| Operation load | According to the size of conveyor |
| Warranty | 1 Year |
Note:
1.The voltage about the Product specification can be selected by the customer's specific requirements.
2.The conveyor capacity can be influenced by the material composition .
The above specifications are only for reference and subject to change without prior notice, please confirm with our sales representative when making order.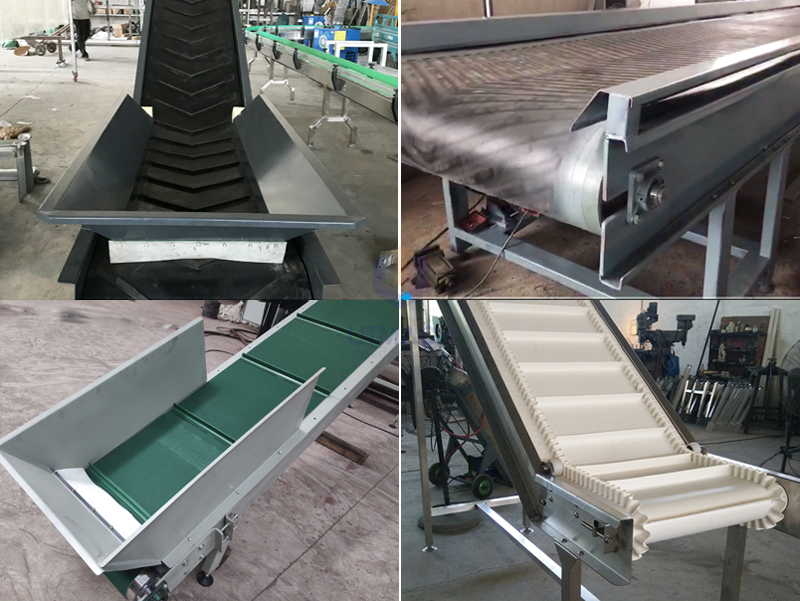 How to get a suitable machine?
1. what is the raw material
2. the dimension of the input material and output material
3. the capacity,and power condition.
Tell me those data, we can help you to recommend the suitable Conveyor for you.
Almost Conveyor is customized as customers' real operating condition. Our technical person will provide the drawing with you before we start to manufacture it. We will produce the conveyor strictly as the provided drawing with confirmed by you.